S. LAKHA SINGH BAHRA ( Founder Chairman)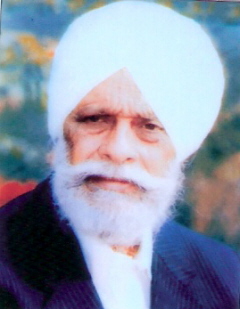 S. Lakha Singh Bahra was born in a poor Ramgarhia family at Chachoki in 1919. He could not pursue his studies beyond sixth class. He left for Kenya Africa in young age. There he worked hard and became a renowned building contractor. Hard work and luck favored him and S. Lakha Singh became a man of Crores. He did not forget his village and the difficulties he faced in childhood due to poverty of the family. He came back to Chachoki and thought of helping brilliant students of poor families by giving them scholarships to pursue their studies. With this intention he established the Trust in 1982 named as S. Lakha Singh Bahra Charitable Trust with seed money of Rs. Three lacs. This amount was deposited in a bank and its interest was spent on giving scholarships. NRI`s were given about 19% interest on their deposits at that time. This amount was raised to Rs. 5 lacs in 2004. Today this amount is Rs. 12 lacs and its interest is given as scholarship to School and College going students of Ramgarhia Institutions and Govt. Girls High School, Chachoki. The Trust decided to open a maternity hospital in 1993 to provide affordable treatment to the poor. Later on surgery and medicines wings were also added to S. Partap Singh Bahra Memorial Hospital. On successful functioning of this Hospital Eye section was also added in the year 2009.

S. Lakha Singh Bahra said goodbye to this world in 2004. However, the seeds of good work he sown during his lifetime continues to blossom and help the needy.

We must all salute this man who had quietly pass on to the trust his life time earnings without publicity.